Pasta with ham, pesto and tomato
A simple pasta dish for when the sun is out and you don't feel like spending a lot of time in the kitchen but do feel like having a really nice meal.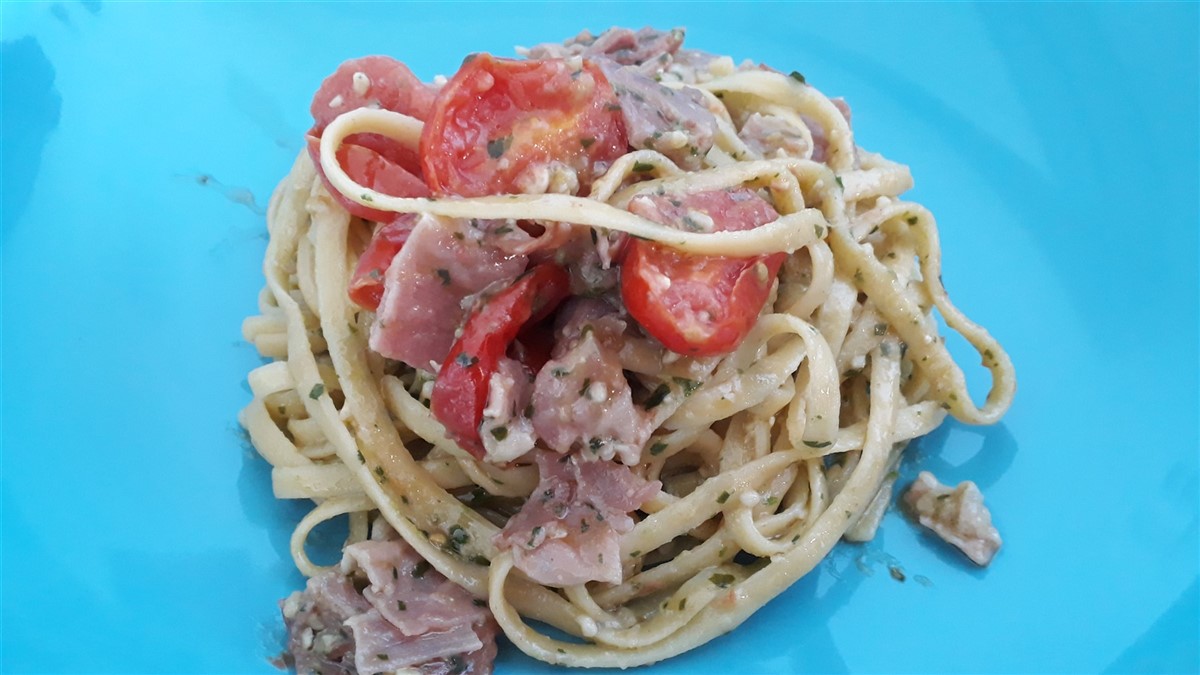 The ingredients for pasta with ham, pesto and tomato:
200 gram fettuccine;
100 gram Pesto Genovese;

2 cloves garlic; chopped
15 gram pine nuts; roasted
50 gram basil; only the leaves
75 gram Parmigiano-Reggiano; grated
50 milliliter extra virgin olive oil;

200 gram raw ham; sliced
12 cherry tomatoes; halved
1 cloves garlic; peeled
olive oil;
How to make pasta with ham, pesto and tomato?
Prepare the Pesto Genovese.

Crush the garlic, the pine nuts, the basil, the Parmigiano-Reggiano and the extra virgin olive oil in a blender or a mortar; using a mortar will give a more authentic structure to the result.
Your result is ready for further use.

Prepare the fettuccine according to the insctructions on the packaging.
Add the olive oil to the pan.
Add the raw ham and the garlic and cook for 5 minutes.
Add the cherry tomato and the Pesto Genovese and cook for 4 minutes.
Remove the garlic.
Add the fettuccine and fry shortly while stirring.
Your dish is ready, enjoy!
More about the ingredients used: